Earn While You Learn
ARPEC (Air Conditioning, Refrigeration, and Pipefitting Education Center) offers apprenticeship training programs that will give you an opportunity to further your education and earn income at the same time.
Download the Application Now
Learn More



We aim to help individuals who want to advance their education but don't have the financial means to do so. For this reason, the programs we offer are completely tuition-free.
We understand that finding a job without tertiary education can be challenging. This is why our programs are designed in a way that you get to earn an hourly wage while studying.
We are committed to helping you succeed. If you want to start a new career or are considering to transition into a new line of work, we can give you the guidance you need.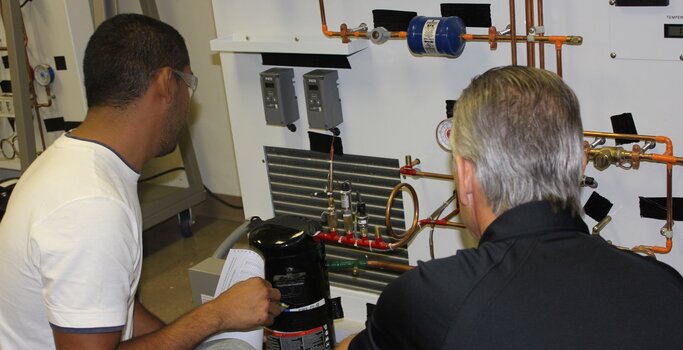 More Than 60 Years of Providing Quality Vocational Education
ARPEC traces its roots to more than six decades ago in Florida. On October 11, 1949, our first education center was registered with the state as an apprenticeship program provider. Since then, we have established a reputation as one of the most esteemed vocational institutions in Florida.
Our Mission
You may not have a college diploma, but that doesn't mean you won't be able to have a rewarding career. In a fast-changing economy and industry, one of the keys to success is the ability to adapt and learn new skills.
Our mission is to help individuals soar to greater heights through our air conditioning, refrigeration, and pipefitting program. We have carefully planned our curriculum to give our vocationally inclined students the knowledge and skills they need to land a promising career.
The ARPEC Advantage
ARPEC in Miami, FL offers an extensive classroom curriculum matched with on-the-job training (OJT) so students can earn, learn, and succeed in a life-long career. With our air conditioning, refrigeration, and pipefitting program, you can take your education to another level while generating income.
By enrolling in our program, you'll have the chance to earn a certification without having to pay tuition fees. You'll also be paid at an hourly rate while doing your OJT, with health, welfare, and pension benefits to be added as you advance in your studies.
If you are interested in starting a career in the HVAC industry, get in touch with us. Men and women with ages 18 years or older can apply to our program. Applicants must also be high school graduates or GED holders. Additionally, a valid Florida driver's license is required. We accept applications from individuals in the following areas:
Broward County
Miami-Dade County
Monroe County
Resources
Take your first step toward a fulfilling career and bright future. Contact us today to learn more about our program, requirements, and application process.
Application for Apprenticeship
If you like the challenge of learning new skills and are good with your hands, the ARPEC program could be perfect for you!
Our Training
By striking a balance between classroom and on-the-job training, we prepare our students to become experts in the following:
HVAC service
Pipefitting
What People Say About Us
Discover real stories about how ARPEC has changed their lives for the better.

L. Means
President, Southeastern Chiller Services
"We service large commercial and industrial air conditioning systems. The A/C School consistently provides us with highly qualified technicians, and this is why we are a Union Contractor!"

M. Kerney
Hill York Service Corporation
"The air conditioning apprenticeship school is the crucial differentiator that delivers competent, skilled craftsmen to our industry."

K. Daniels
Owner, Advanced Integrated Service
"As a contractor, I can trace the roots of my success back to the training that I received at the LU 725 apprenticeship school. The dedication and high level of training that I received from the school and the staff have provided me with the knowledge and skills necessary to become a qualified journeyman, an instructor, and ultimately, a licensed contractor. I would highly recommend the school to any motivated individual who would like to excel in the air conditioning field."

J. Hebbert
Training Coordinator, ARPEC
"I am happy to be part of an organization that is a leader in our industry. Our apprentices graduate certified and licensed in all facets of the Air Conditioning and Pipefitting field."
David Gomara
1st Year Service Apprentice, Highest GPA of 1st Semester
Stay in the Know
Affiliations